BIXOLON Co., Ltd a leading global mobile, label and POS printer manufacturer today announced the SRP-Q300 3-inch (80mm) Direct Thermal mPOS cube receipt printer with flexible mPOS configuration capabilities. Featuring flexible printing from Android™, iOS™ and Windows® mobile devices, the SRP-Q300 now supports Auto Bluetooth and WLAN Connection via NFC for Android Smart Devices.
The SRP-Q300 NFC functionality offers both readable and writable compatibility. Ideal for initial printer setup and configuration with Android smart devices running on Android OS V3.1 or higher. Enabling user convenience throughout the printer setup, BIXOLON has launched the Android Utility Software application on the Google Store named Q300 utility for exclusive setup compatibility with the SRP-Q300.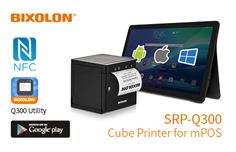 BIXOLON SRP-Q300
The Q300 utility for Android supports Bluetooth Interface setup via NFC (Bluetooth Pairing, Bluetooth setting change). WLAN Interface Setup via NFC (WLAN setting change), VMSM (Virtual Memory Switch Manager) via NFC and Bluetooth, to enable tailored settings for the user's environment. Alongside a NV Image Tool (Non-Volatile Image Tool) via Bluetooth, enabling users to save graphics onto the printer's flash memory to accelerate print times.
"With a sleek, ultra-compact design, front-exit printing, the SRP-Q300 allows flexible mPOS configurations to free up counter space and compliment the latest mPOS systems," explains John Kim, BIXOLON Director of Marketing." When paired with BIXOLON's intelligent B-gate connectivity hub, the SRP-Q300H model can seamlessly connect to the host tablet device (via Bluetooth communication) while supporting one charging port and up to 4 USB peripherals (scanner, cash drawer, customer display, RFID reader, scales, etc.). Printing receipts or online orders through a native, web and cloud-based mPOS application with B-gate SDKs. This remarkable printing hardware creates a complete mPOS solution with a smaller footprint and competitive pricing."
About BIXOLON 
BIXOLON is a leading global manufacturer of innovative, advanced printing technologies including point-of-sale receipt, label and mobile printers for a wide range of environments. Millions of BIXOLON printers are used today in retail, hospitality, healthcare, banking, ticketing, post/parcel, warehousing and other transaction-intensive industries. In 2017, for the fourth year in a row, BIXOLON was named global mobile receipt printer market leader by Japanese research company Chunichisha, securing a 32.9% market share. For more information, contact us at https://bixolonusa.com/, or follow us on these social channels: Twitter, Facebook, LinkedIn and YouTube.